Description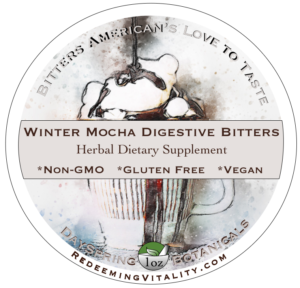 Bitters American's Love to Taste
Without absorption, nutrient rich food is of no use. Your body is built on what is absorbed from the good food you eat.
Bitters prepare the body to digest the food you eat. Bitters stimulate sensors throughout the digestive tract to release enzymes that enhance digestion and absorption of nutrients. Promotes gut health, manage sugar cravings, detoxifies, and aids in mild acid reflux.
Around the world and throughout history, bitters have been a crucial part of digestive health and maintenance of total body wellness. There is a tradition of enjoying bitters during a meal in every country except modern America. Day Spring Botanicals created Bitters that Americans will enjoy.
The special thing about Winter Mocha is that it has artichoke leaves for gallbladder support and Chinese Mushrooms for immune support. The flavor really reminds me of chocolate licorice, because it also has fennel. Fennel is KP Khalsa's favorite anti bloating/gas herb.
—————
Wholesale Price 1 oz: 6 for $45
Suggested Retail Price 1 oz: $15-20/ 1 oz bottle
————–
Directions: Place a few drops on tongue before eating
Ingredients Java Bean: palm glycerin, organic cacao, water, organic alcohol, chaga, organic artichoke leaf, organic plantain leaf, organic coffee (Bulletproof), organic fennel seeds, organic spices
Indications: enhance digestion, reduce gas, repair damage, support immune function, and aid the gallbladder
Important: If you want other bitters, fill free to make suggestions.
*This product has not been evaluated by the FDA. This product is not intended to diagnose, treat, cure, or prevent any disease.
*Daily Value not established